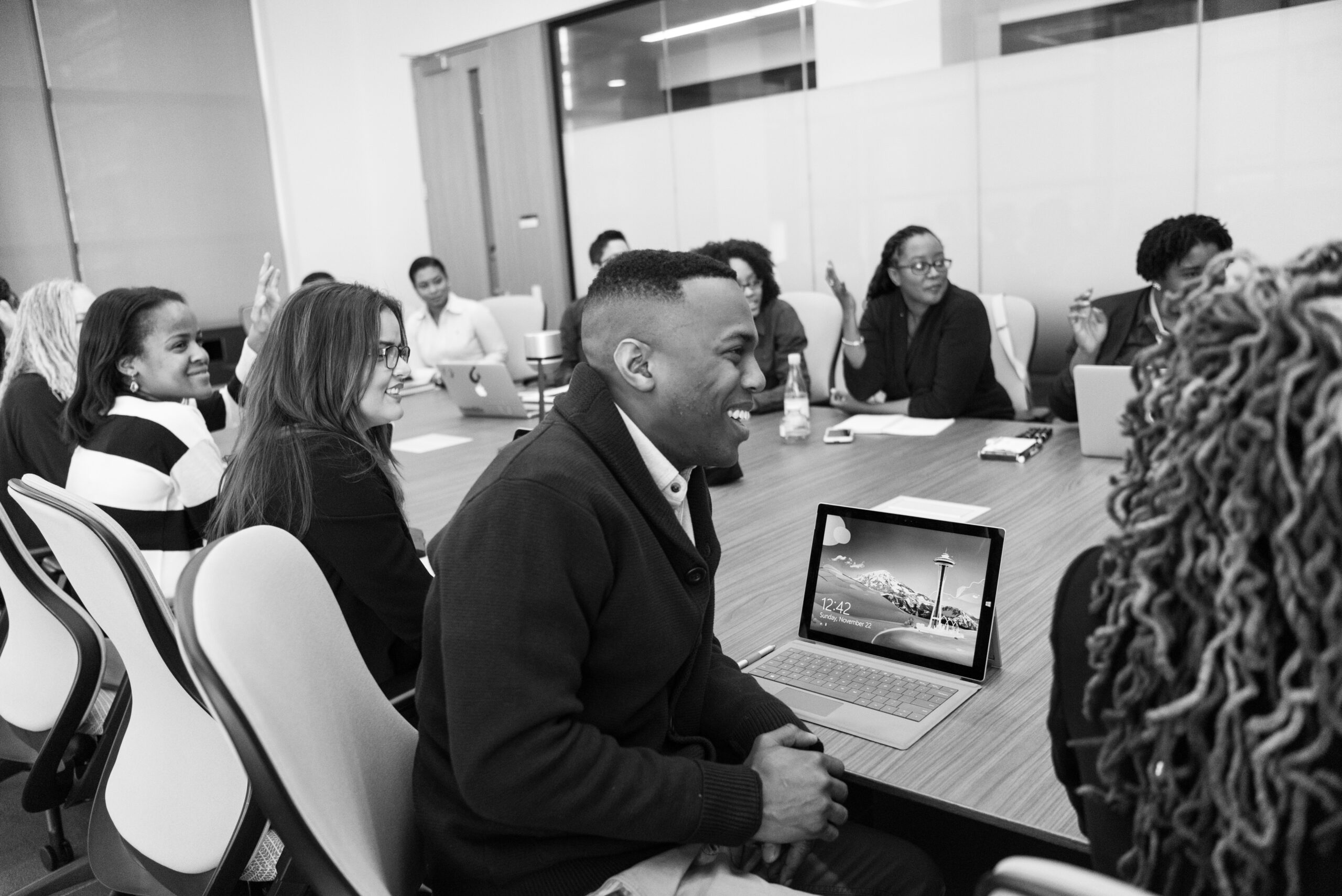 Executive Master of Business Administration
Jakes Divinity School (JDS) and Paul Quinn College (PQC) have developed a new Executive Master of Business Administration degree program for business executives, entrepreneurs, and Christian leaders. JDS and PQC will launch the EMBA program fall 2022.
Develop the skills needed to be an agent of change in the global marketplace by growing in your spiritual formation, creative innovation, and business acumen through the online Executive MBA program at Jakes Divinity School (JDS).
Powered by Paul Quinn College, this accredited Executive MBA program delivers courses on topics ranging from economics to strategic business development to ethical decision-making. Focused on fostering the next generation of entrepreneurial Christian business leaders, this Executive MBA expands on business principles and provides applied learning experiences. Fuse your faith, spirituality, and scholarship while you learn to use your professional life as a platform for your biblical ministry.
This accessible Executive MBA program will teach you practical, evidence-based solutions to organizational issues while instructing you how to bear witness in business. If you desire a top Executive MBA program led by scholars who are both experienced business leaders and dedicated theologians, look no further than JDS.
Executive MBA students will have face to face and cutting-edge learning experiences built into the two-year program.  The experiences will include engaging in the International Leadership Summit each spring, studying abroad during the student's first fall semester, and creating or expanding a business venture.
Request Information
Apply Now

Take your own path
with full-time and part-time options

Learn from
leading theologians, pastors, and scholars

Be mentored
in the JDS Ambassador program by Christian peers

Attend face-to-face
residency opportunities twice a year

Advance your workplace ministry
while building business skills
Why an online Executive MBA from Jakes Divinity School?
If you are looking to advance your career or continue your business education through coursework that combines experience-based skills and theologically grounded instruction, the Jakes Divinity School online Executive MBA is for you.
What can you do with an Executive MBA?
Anchored in biblical values, this Executive MBA program will help you to advance your personal brand—at JDS and into your career. The Executive MBA program online aids aspiring Christian leaders like you to advance your spiritual calling through rigorous academics, leadership coaching, and exclusive programming.
JDS Executive MBA program graduates can go on to succeed in:
Business development
Business operations
Executive leadership
Financial management
Healthcare operations
Marketing leadership
Product management

Career Outlook with an Executive MBA
Most graduates in top Executive MBA programs learn the skills needed to advance their careers at their current companies or move into roles that have a greater impact in their fields.
The JDS Executive MBA will open the door to a wide variety of opportunities to further your job growth and entrepreneurial capabilities.
Get started on your online Executive MBA
Complete your Executive MBA program online so you can drive change with your leadership skills and biblical worldview. If you have questions after reading about the program, please call 469-332-6539 or email kgreen@jakesdivinity.org.
Explore Financial Aid
Remove barriers to earning your Executive MBA degree by applying for federal loans, grants, and/or scholarships. Start by completing the FAFSA and use School Code: 003602 for Paul Quinn College.
Request More Information
If you would like to discuss the online Executive MBA program in more detail with an admissions counselor, please submit this form.
The eMBA program will be 36 credits. The program will launch a cohort each Fall Semester only. Only one cohort will be started in Fall 2022, and students will enroll continuously through completion (ex: Fall 2022, Winter-term if needed, Spring 2023, Summer 2023, Fall 2023, Winter-term 2023 and Spring 2024; completing 21 credits in year one, and 15 credits in year two.  Future cohorts will follow a similar schedule.
Online instruction will be delivered via CANVAS.
The EMBA students will meet in person, for two- and one-half days of class sessions and activities as scheduled.
To be considered for admission, you must have the following:
A Bachelor's degree from an accredited college or university.
A minimum GPA in college courses of a 2.5 on a 4.0 scale.
To apply, you must submit the following:
A completed application via the PQC application portal (This link will be provided to you by the Enrollment and Student Services Coordinator.)
One letter of recommendation from a college professor or employer. Email your letter of recommendation to ksmith@tdjakes.org.
A 500-word essay on which business specialization interests you and why. Email your essay to ksmith@tdjakes.org.
A detailed resume and email it to ksmith@tdjakes.org with the subject "EMBA Applicant Resume – (Your first and last name here)".
An official transcript from every college or university you attended
Transcripts must be submitted in sealed, signed envelopes and mailed directly from the college or university to this address:
Melissa Orozco
Enrollment Management at Paul Quinn College
3837 Simpson Stuart Road
Dallas, TX 75241-4398
eMBA@pqc.edu or morozco@pqc.edu
Request Information
You will be able to learn even more to help you progress in your Executive MBA growth through specialized sessions offered during the International Leadership Conference. You will hear from JDS faculty and special guest lecturers.
| | | | |
| --- | --- | --- | --- |
| Course Number | Course Name and Credits | | Course Description |
| BUSA 5311 | The Two Gifts: Entrepreneurial Leadership & A Spiritual Calling | 3 | Christian Ministry or Business? The limited few who can operate within these Two Gifts may experience the push or pull of choosing one or the other. This course will explore what it means to fully embrace both gifts to serve God and utilize business and entrepreneurial endeavors to serve the people of God. |
| BUSA 5312 | Visioning, Planning & Budgeting | 3 | Write the vision and make it plain… A new or existing business venture must have a plan of attack which considers the good and bad times. The course will review different approaches to business implementation and structural plans. Learners will draft their new or expansion business plan to share to a panel of business experts for real feedback. |
| BUSA 5321 | Communicating Ethics and Values | 3 | What will the public perceive about your business? Are your Christian values communicated through all you do? Are decisions made from a Christian perspective? Students will review real world businesses who have experienced identity crisis' related to their ethics and values. |
| BUSA 5322 | Money: Raising Capital & Finance | 3 | A full understanding of debits and credits, budget and cash flow is required in order to maintain and grow a business. Quantitative skills and budget evaluation will be covered with the goal of how to identify new sources of capital, maximizing profits, and avoiding common pitfalls related to financing, including internal fraud. |
| BUSA 5323 | Teams: Developing, Managing and Leading | 3 | Organizational management is the study of how various people interact within a shared environment. Understanding roles, skills, motivations. Conflict and resolution will assist in the effectiveness of a business or entrepreneurial endeavor. |
| BUSA 5331 | The Global Marketplace: Study Abroad | 6 | 6 week term divided into 2 weeks of preliminary study leading up to a 3 week study abroad experience, and a 1 week debrief / final exam/presentation period. |
| BUSA 6341 | 2020 Case Study: Crisis and Change Management in a Global Pandemic, Hurricane, Political Upheaval, etc. | 3 | 2020 was a year of crisis. What would you have done as the owner, CEO of a business or community based organization? Real examples of leadership, decision making, or lack there of will be reviewed to help create Emergency Response Plans to preserve life and property in any type of crisis or emergency. Learners will select a crises and research impact, response and recovery. The final project will include an evaluation of the entity post crises and role play presentation of how the learner would have responded. |
| BUSA 6342 | Data: Research & Analysis | 3 | Data driven decisions will save time and money, and increase the bottom line. This statistical analysis course will explore how data can be used to enhance knowledge of existing clients and potential customers, pricing models, customer feedback, etc. including effective communication of data results and its interpretation for specific audiences. |
| BUSA 6351 | Accounting, Auditing & Evaluation | 3 | Businesses have access to financial statements, cash flow reports, annual audits, etc. What does this information mean? What type of data is needed for specific types of decisions? This course will lead the learner through data evaluation exercises with a focus on "what if" scenarios for current and future financial projections. The learner will also learn key financial indicators which communicate strengths and weaknesses in the financial model, such as over or under budgeting, misappropriation of funds, non-traditional indicators, etc. Additionally, the course will focus on the presentation and interpretation of financial data for different audiences, such as clients, funders or external auditors / evaluators. |
| BUSA 6353 | Next: Growth, Succession & Failure | 3 | How many successful businesses plan to be overly successful? Who is going to take over from the founder upon retirement, illness, death or scandal? How will the entity recover from failure? All three of these risks are possible, and must be mitigated through effective business planning with the appropriate perspectives from law, insurance, public relations, etc. |
| BUSA 6361 | Business Law, Contracts and Negotiating (where would this fit?) | 3 | Everyone does not approach business from the Christian perspective. The law, US or International, the contract and the negotiating process provide protections for business to be done legally, but not always ethically. This course will review the basics of business law and contract negotiations. Issue of intellectual property and public domain will also be covered. |
| BUSA 6362 | Tech Business | 3 | Technology will be a part of any successful business even if technology is not the product or service. Without an understanding of technology your business could be vulnerable to attack, underprepared to compete in the marketplace and not able to grow or pivot when needed. This course will introduce the learner to the typical business technologies for regular operations, cyber security, basic website and app development, and social media as a business platform. |
| BUSA 6352 | Capstone: Dream Big Using Entrepreneurial Thought & Action | 3 | The Entrepreneurial Thought and Action Techniques will be used to develop and expand solid business plans around your BIG dream / idea. The course will culminate in a business, product or service launch. |
Costs
$788 per credit hour
36 units
Technology fee: $1,666.67 per semester
Graduate program fee: $1,950 per semester (charged only in fall and spring terms)
Student health insurance fee: Determined annually (waived if student holds ACA-compliant insurance)
Graduation fee: $300
Study abroad: TBD
Paul Quinn has become one of the most innovative and widely recognized small colleges in America. Paul Quinn College (PQC), founded in 1872 by a group of African Methodist Episcopal Church preachers, is a private, four-year, faith-based, liberal arts-inspired Historically Black College. Located in southern Dallas, PQC proudly educates students of all races and socio-economic classes under the banner of their institutional ethos, WE over Me. Guided by the mission to create servant leaders and agents of change for the global marketplace, PQC is committed to providing a quality education that addresses the academic, professional, and social development of students.  By focusing on academic rigor, experiential learning, and entrepreneurship PQC has become a model for urban higher education.
Paul Quinn College is accredited by the Transnational Association of Christian Colleges and Schools (TRACS). Paul Quinn College is affiliated with the Association of Institutions of Higher Education of the African Methodist Episcopal Church. Jakes Divinity School (JDS) and Paul Quinn College (PQC) are developing a new Executive Master of Business Administration degree program for business executives, entrepreneurs, and Christian leaders. Pending Board approval, JDS and PQC will launch the eMBA program fall 2021. Because the eMBA degree is powered by Paul Quinn College in partnership with Jakes Divinity School, it will be a fully accredited eMBA.
Students in the online Executive MBA program have the option of applying for federal loans, grants, and/or scholarships. To apply for financial aid, complete a FAFSA application (Spanish FAFSA application) and use School Code: 003602 for Paul Quinn College.
Financial Aid Requirements
Federal guidelines generally require students to be enrolled in a minimum of 6 units/semester hours to use federal financial aid. Students are not eligible to use federal financial aid (FAFSA) if starting in Module 3 of any semester. If starting in Module 3, students will only be enrolled in 3 units (1 course). Students can still be admitted for Module 3 of a semester and pay out of pocket for tuition.
Scholarship Opportunities
Ambassador Scholarship: $500/academic year (Only available for Ambassadors selected to serve during the academic year)
Innovative Leader Scholarship: Varies depending on scholarship donations
Financial Aid Application Deadline
Please refer to the financial aid registration deadline and academic registration dates made available through your JDS Enrollment and Student Services Coordinator.